A shade beyond perfect
Samantha Todhunter's country house kitchen sits somewhere between dawn mist and sunset blush, every element stamped with considered perfection.
As a custom kitchen company, working on a designer's own home has to be one of the biggest privileges and the greatest responsibilities. The Old Vicarage ticked both boxes… but also, and most importantly, was an absolute delight. Samantha Todhunter is (as backed both by her extensive portfolio and industry reputation) incredibly talented, exceptionally brave and utterly prolific!

The Samantha Todhunter Design studio produced a kitchen detailed blueprint, which was discussed, adapted and worked by the Barr Kitchens team into exacting manufacturing drawings. The result: cabinetry of the highest quality, brimming with charm and bespoke design features.
As part of a complete renovation and redecoration project, the Barr Build team had extended the kitchen space. A new matched gable, clad in Oxfordshire stone with traditional handmade flush casement windows, became the perfect shell for our handmade cabinetry.

The cabinetry frames are handmade from solid oak, with traditional dovetail drawer boxes. Maplewood shaker-style doors have an Ovolo mould profile, giving a traditional feel to the cabinetry. Cabinet backs are finished in tongue and groove panelling, all hand-painted in F&B's Setting Plaster… heavenly!
To the far end of the kitchen is a complete wall of floor-to-ceiling dresser-style cabinets, featuring a marble slab mid-shelf that sits into a central breakfast and bar station as an integrated cold counter. Bi-folding doors to these sections open fully without impinging on the adjacent larder cupboards and allowing them to feature as an integral part of the space when required.
Shelving throughout is held by Florentine bronze loop brackets, enabling the accommodation of varying-sized crockery and small appliances. Worktops in honed natural Carrara marble, with an ogee edge profile, skirt the entire space. Further custom features include a cross-hatch wine rack, chopping board storage, tall utility storage, spice racks to the backs of larder cupboard doors and much more.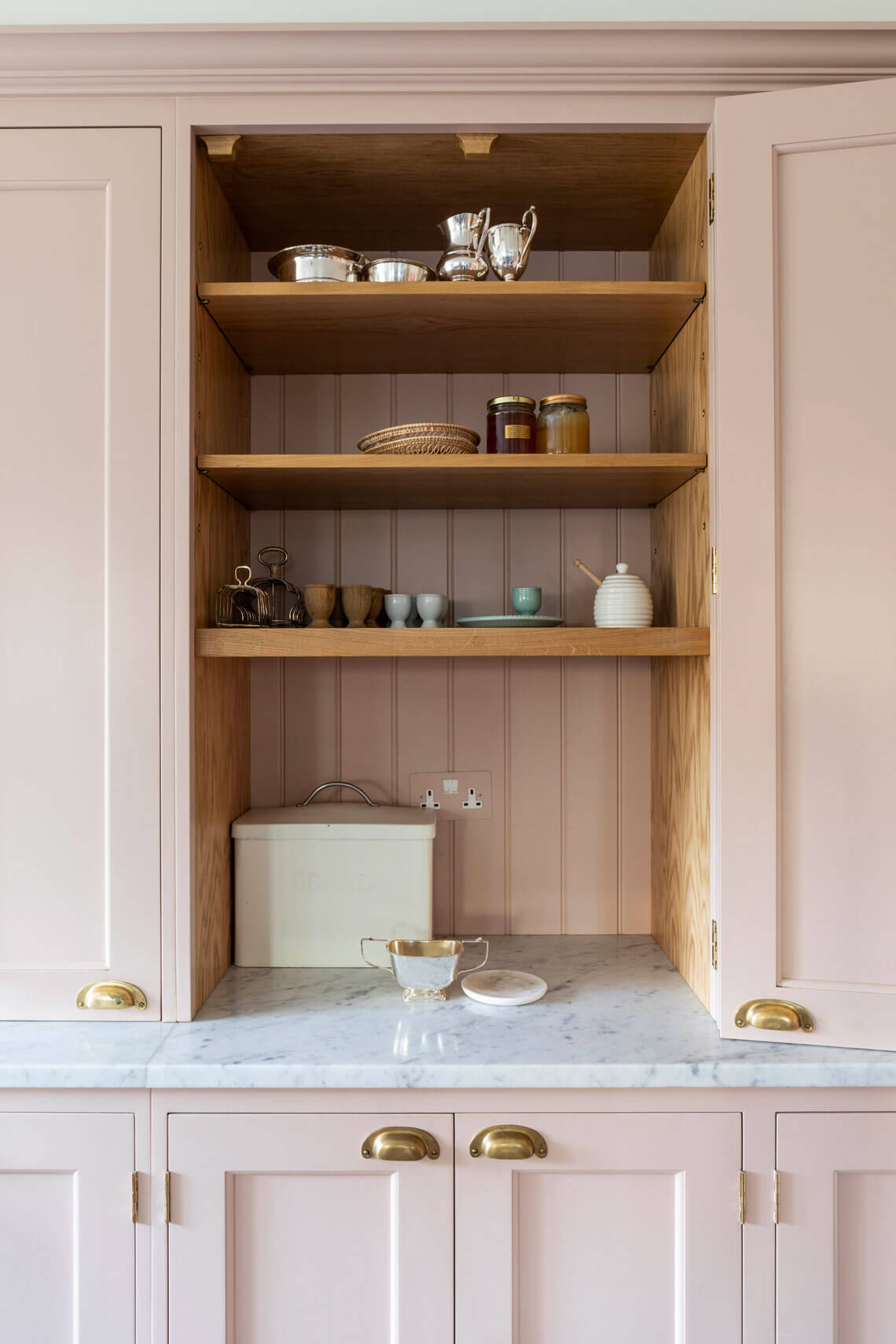 Carefully considered sourcing by the Samantha Todhunter Design team include 'Pie Crust' butler sinks, whose sculpted lines evoke thoughts of home baking. 'Ionian' antique brass taps by Perrin and Rowe sit alongside custom antique brass cabinetry handles, whispering of centuries gone by. Finally, a statement chequerboard floor of Mallory and Tora Blue Limestone by Artisans of Devizes elegantly meets the original slate and terracotta larder tiles, adding just the right amount of drama.
For more details on The Old Vicarage kitchen, including appliances and sourcing, see our project page.
A carefully considered extension and a timeless kitchen
Lower Beech Farm is a charming grade II listed Oxfordshire residence, in which, like many heritage properties the kitchen was built to stay cool.
Lower Beech Farm